factory kitchen island artificial stone grey vein marble slab solid surface
Product Description
#detail_decorate_root .magic-0{width:750px}#detail_decorate_root .magic-1{overflow:hidden;width:750px;height:428px;margin-top:0;margin-bottom:0;margin-left:0;margin-right:0}#detail_decorate_root .magic-2{margin-top:0;margin-left:0;width:750px;height:428px}#detail_decorate_root .magic-3{width:750px;border-collapse:collapse}#detail_decorate_root .magic-4{min-height:18px;padding:5px 10px;width:97px;min-height:18px;box-sizing:content-box}#detail_decorate_root .magic-5{font-size:18px}#detail_decorate_root .magic-6{min-height:18px;padding:5px 10px;width:575px;min-height:18px;box-sizing:content-box}#detail_decorate_root .magic-7{overflow:hidden;width:750px;height:615px;margin-top:0;margin-bottom:0;margin-left:0;margin-right:0}#detail_decorate_root .magic-8{margin-top:0;margin-left:0;width:750px;height:615px}#detail_decorate_root .magic-9{overflow:hidden;width:750px;height:1467px;margin-top:0;margin-bottom:0;margin-left:0;margin-right:0}#detail_decorate_root .magic-10{margin-top:0;margin-left:0;width:750px;height:1467px}#detail_decorate_root .magic-11{vertical-align:top}#detail_decorate_root .magic-12{vertical-align:top;display:block;padding-right:4px;box-sizing:border-box;padding-left:4px}#detail_decorate_root .magic-13{vertical-align:top;padding-bottom:4px;box-sizing:border-box;padding-top:4px}#detail_decorate_root .magic-14{padding:0;margin:0;white-space:pre-wrap;font-size:14px}#detail_decorate_root .magic-15{text-align:center}#detail_decorate_root .magic-16{font-size:24px;font-family:inherit;font-style:inherit;font-variant-ligatures:inherit;font-variant-caps:inherit}#detail_decorate_root .magic-17{font-size:24px}#detail_decorate_root .magic-18{overflow:hidden;width:750px;height:327.91017415215396px;margin-top:0;margin-bottom:0;margin-left:0;margin-right:0}#detail_decorate_root .magic-19{margin-top:0;margin-left:0;width:750px;height:327.91017415215396px}#detail_decorate_root .magic-20{overflow:hidden;width:750px;height:974px;margin-top:0;margin-bottom:0;margin-left:0;margin-right:0}#detail_decorate_root .magic-21{margin-top:0;margin-left:0;width:750px;height:974px}#detail_decorate_root .magic-22{font-size:22px}#detail_decorate_root .magic-23{overflow:hidden;width:750px;height:522px;margin-top:0;margin-bottom:0;margin-left:0;margin-right:0}#detail_decorate_root .magic-24{margin-top:0;margin-left:0;width:750px;height:522px}#detail_decorate_root .magic-25{border-bottom-style:solid;border-bottom-color:#53647a;font-family:Roboto;font-size:24px;color:#53647a;font-style:normal;border-bottom-width:2px;padding-top:8px;padding-bottom:4px}#detail_decorate_root .magic-26{overflow:hidden;width:750px;height:657px;margin-top:0;margin-bottom:0;margin-left:0;margin-right:0}#detail_decorate_root .magic-27{margin-top:0;margin-left:0;width:750px;height:657px}#detail_decorate_root .magic-28{overflow:hidden;width:750px;height:1046px;margin-top:0;margin-bottom:0;margin-left:0;margin-right:0}#detail_decorate_root .magic-29{margin-top:0;margin-left:0;width:750px;height:1046px}#detail_decorate_root .magic-30{overflow:hidden;width:750px;height:2050px;margin-top:0;margin-bottom:0;margin-left:0;margin-right:0}#detail_decorate_root .magic-31{margin-top:0;margin-left:0;width:750px;height:2050px}#detail_decorate_root .magic-32{margin-bottom:10px;overflow:hidden}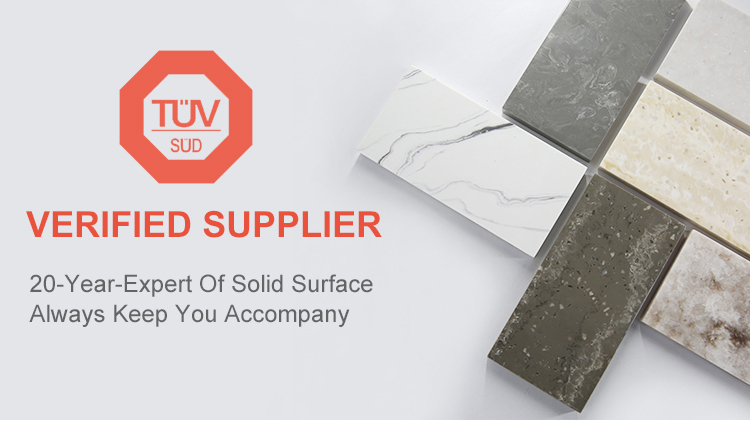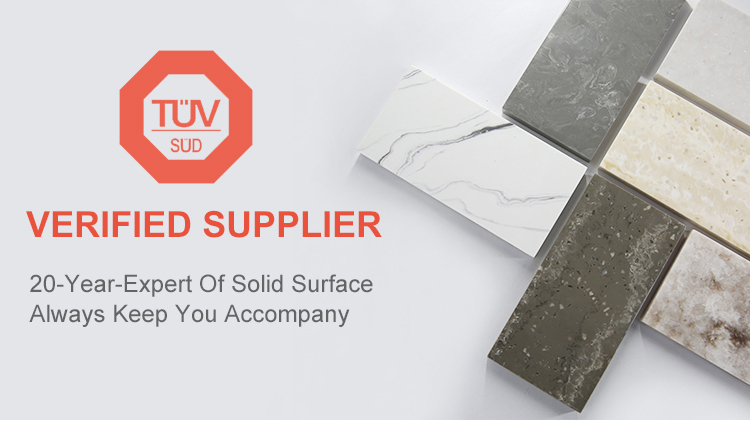 <
Table
class="has-title all magic-3">
Materials
PMMA,UPA, Aluminum hydroxide Power, curing agent, accelerant, pigment
Length
2440 mm, 3050 mm, 3660 mm (Max: 3660 mm)
Width
760 mm,900 mm,1220 mm (Max: 1220 mm)
Thickness
6~30 mm (min.6mm, max.30mm)
Colors
More than 300 colors for choose, also could customize color according to your samples.
Application
Samples
Free sample of size 50*50*12mm, 100*100*12mmcould be provided
Temperature
Instant temperature:1000 degree,constant temperature about 50 degree.
Bending
Yes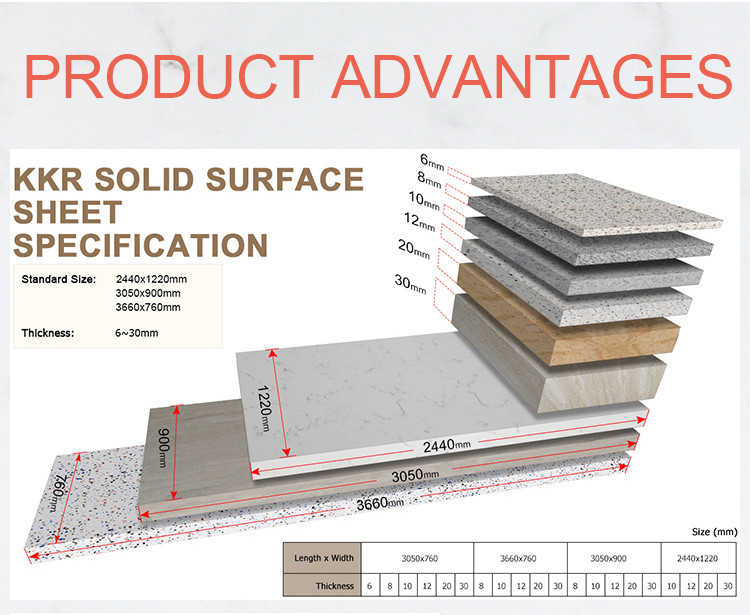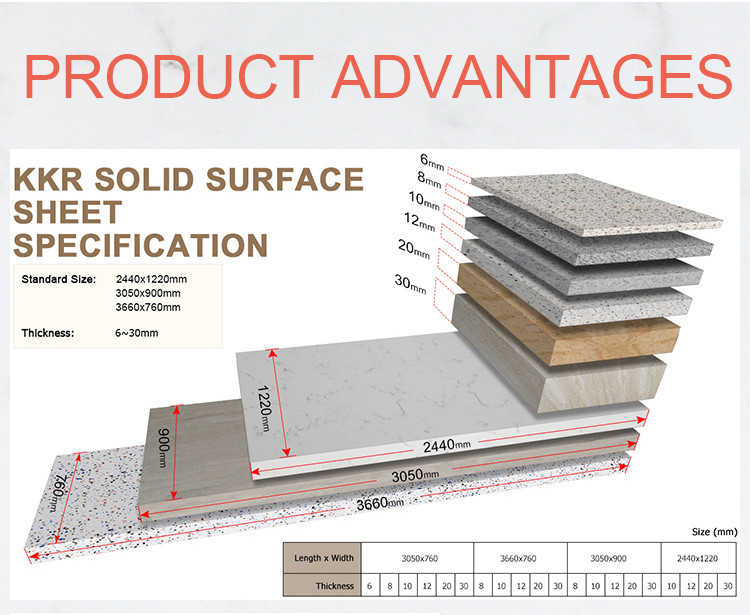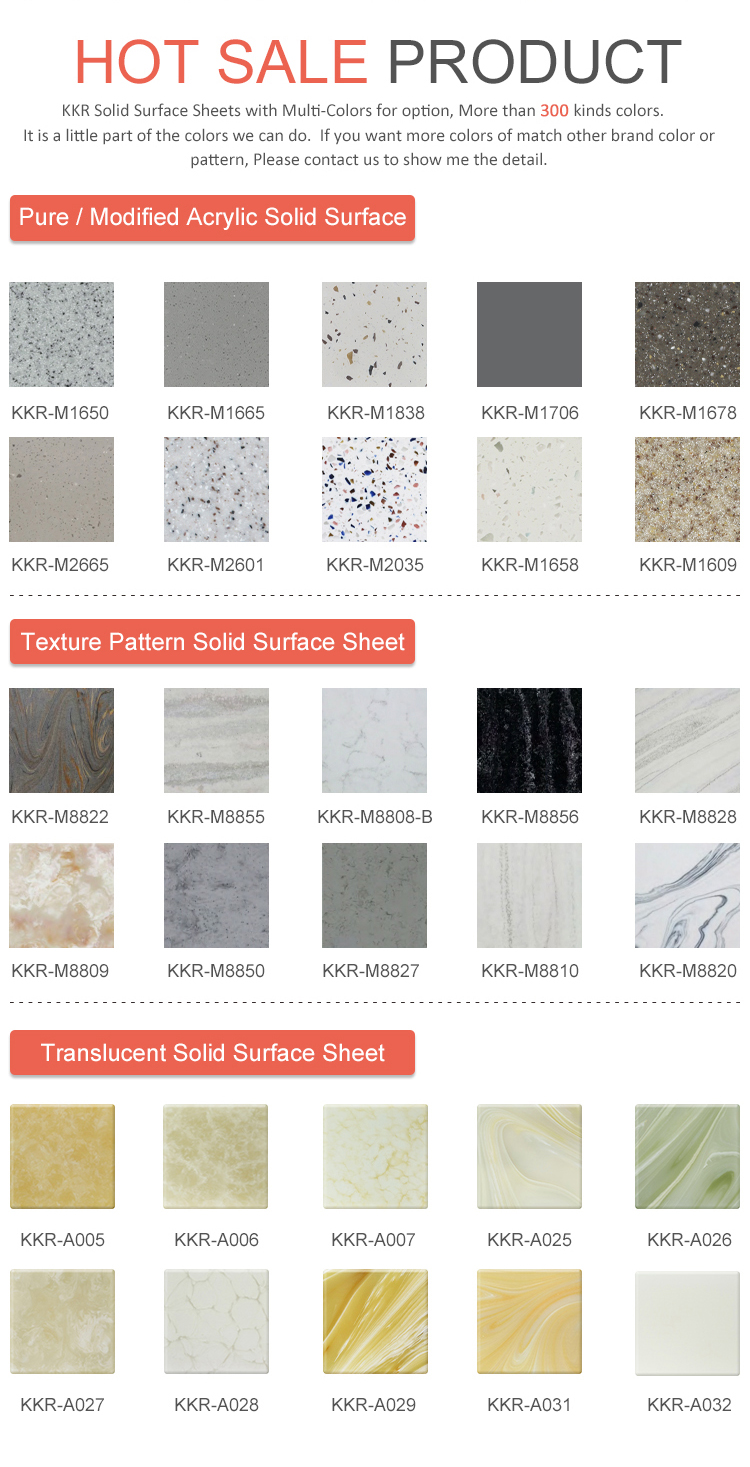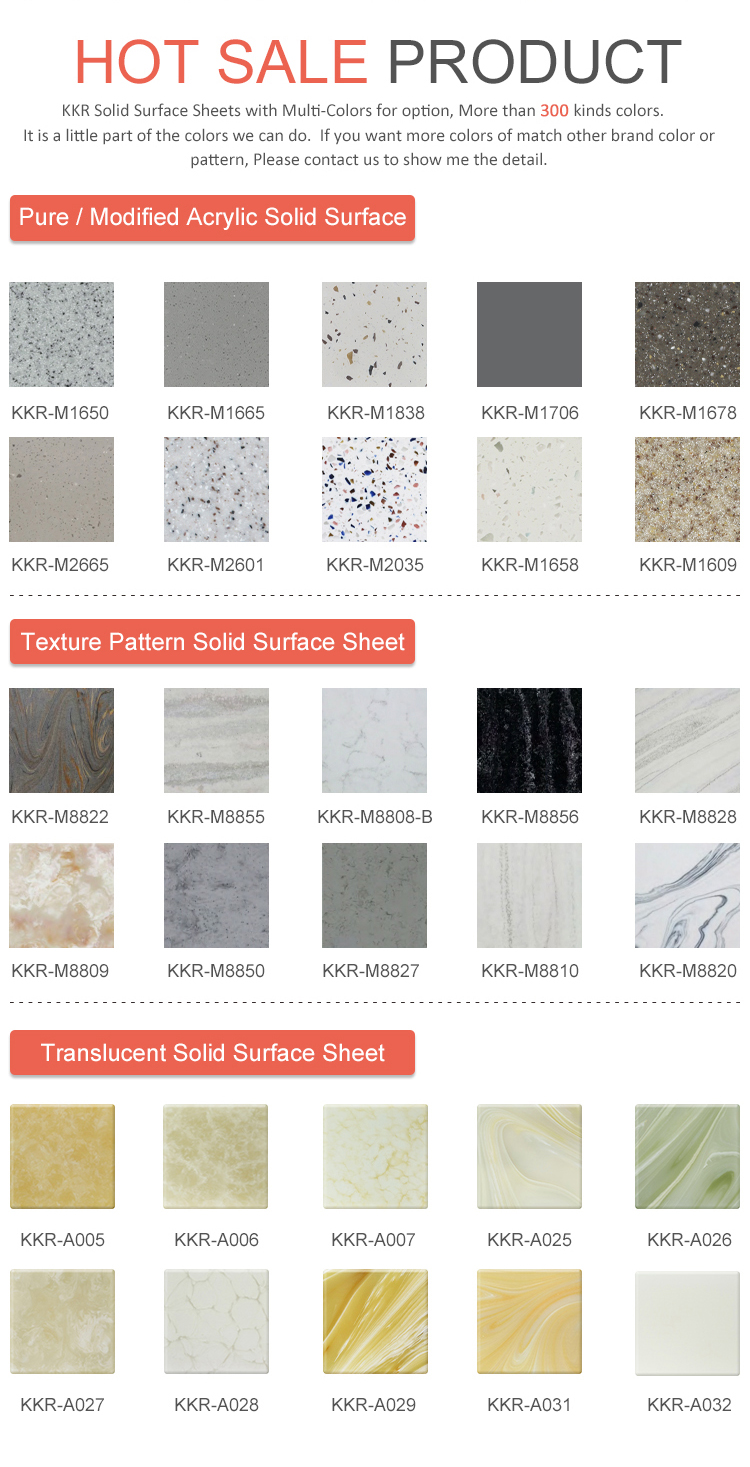 solid surface
Sheet Can be Bent
The composite
Acrylic Solid Surface
sheet can be bent by heating.You can design it according to the shape you want.Bring more
inspiration and beauty.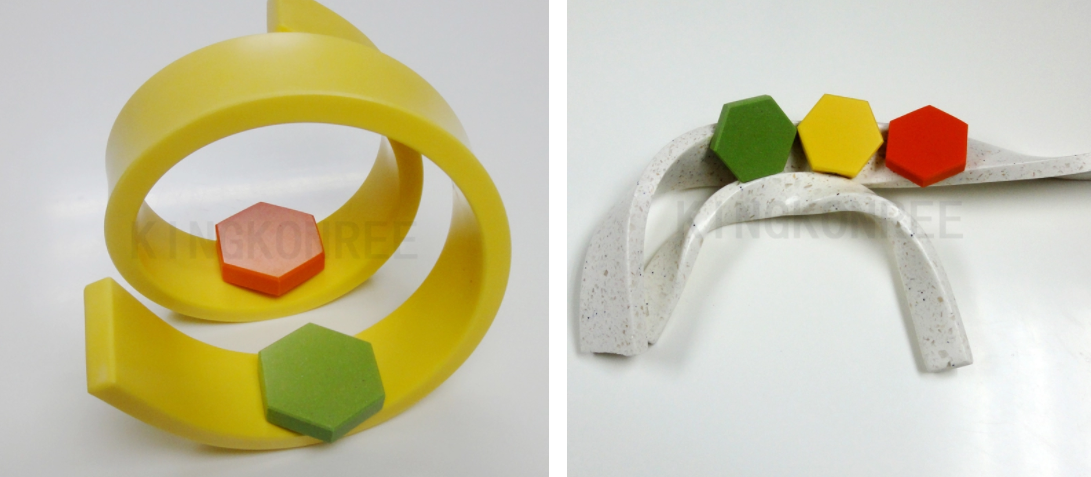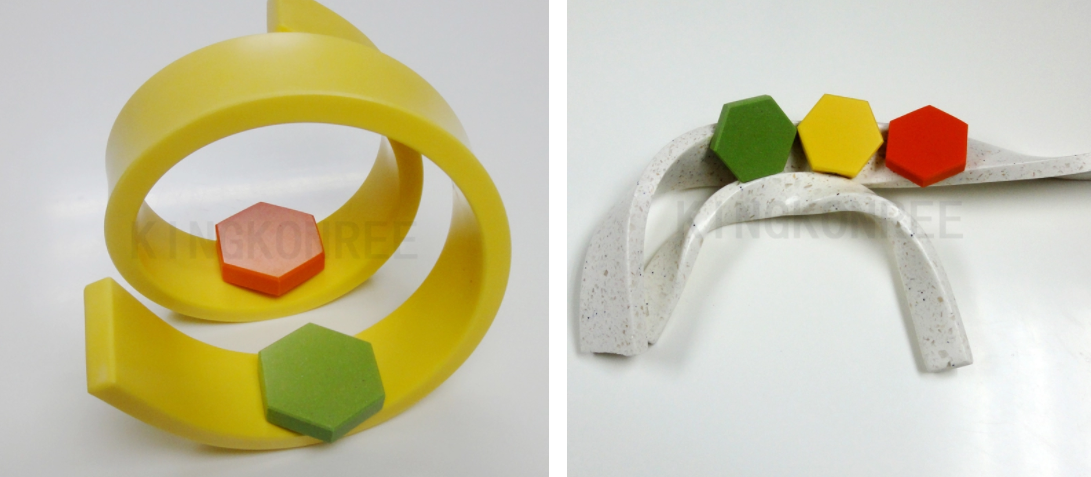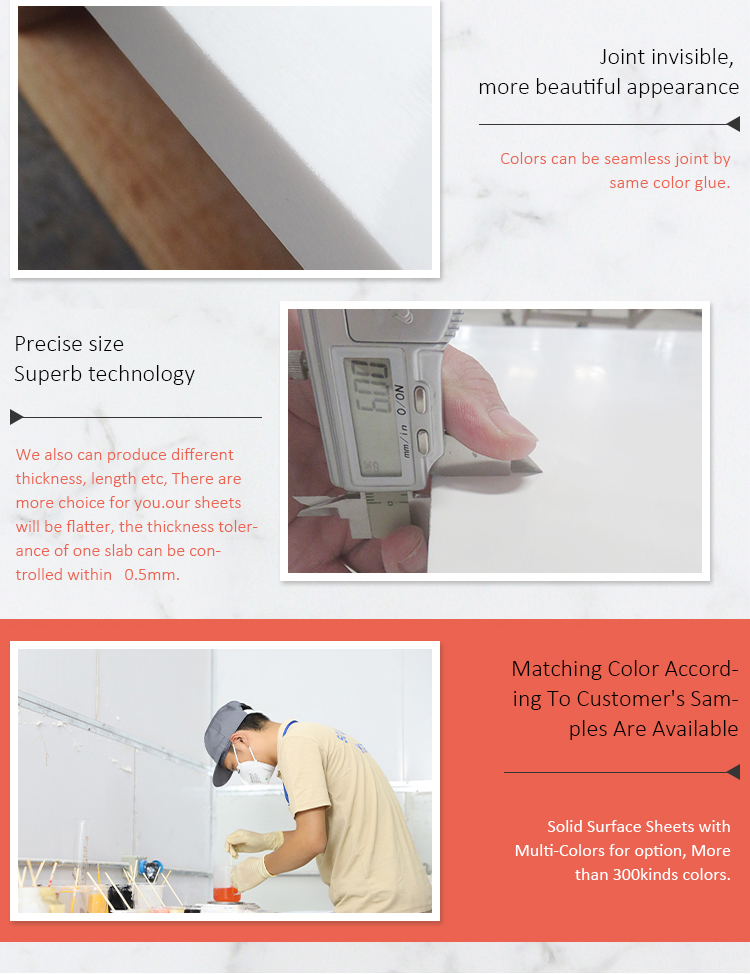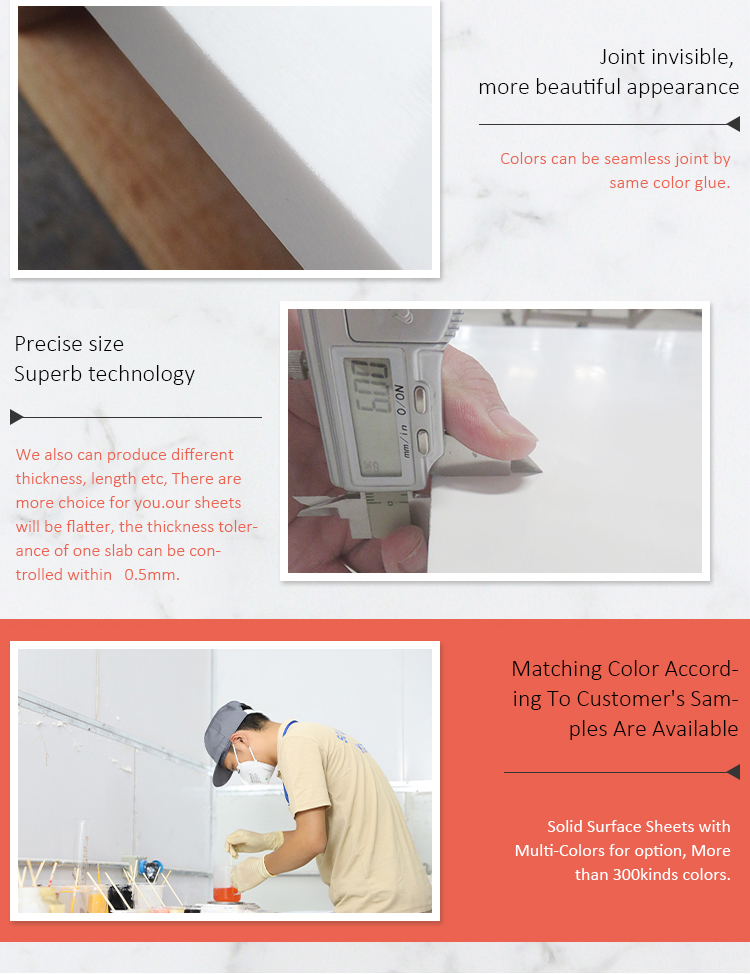 Solid surface features:
*Joint invisible, more beautiful appearance
* No bubbles, anti-pollution, clear more convenient
*High tenacity & easily repairable;
*Smooth, solid, inconspicuous seams;
*Superior stain/bacteria/chemical resistance
*Very low water absorption & excellent penetrability;
*Very high oxygen index & flame resistant;
*Warm touch, colorful and beautiful.
* Extremely durable and easy to maintain and repair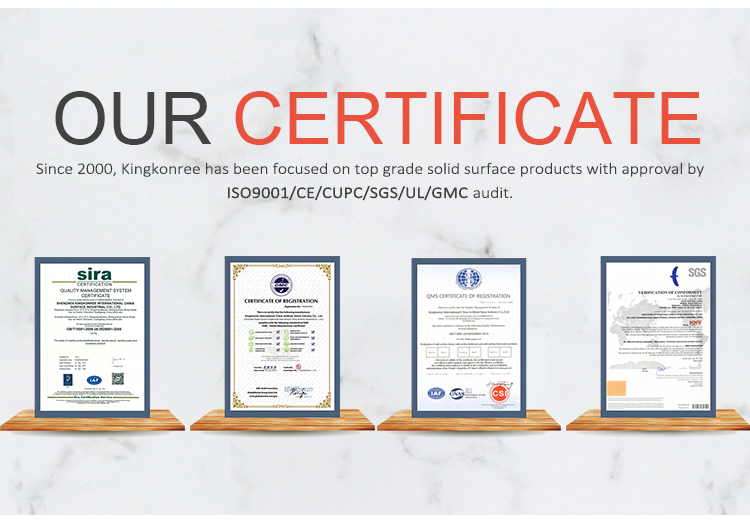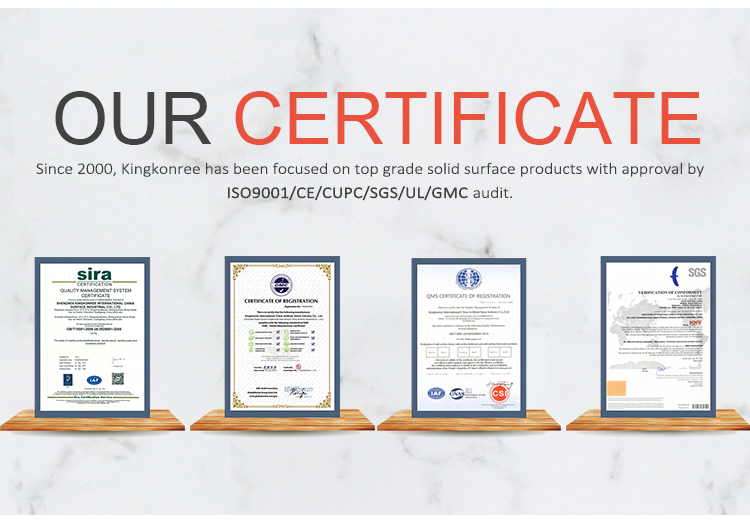 Packing&Delivery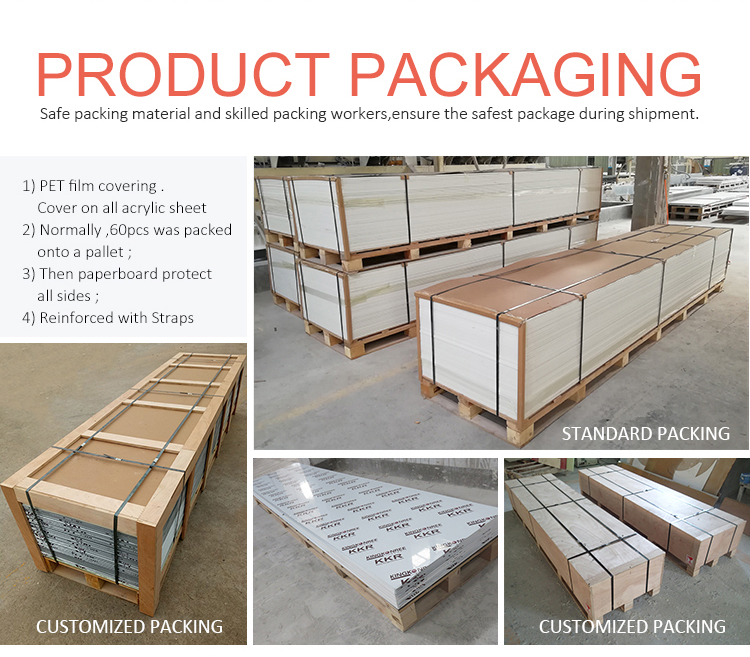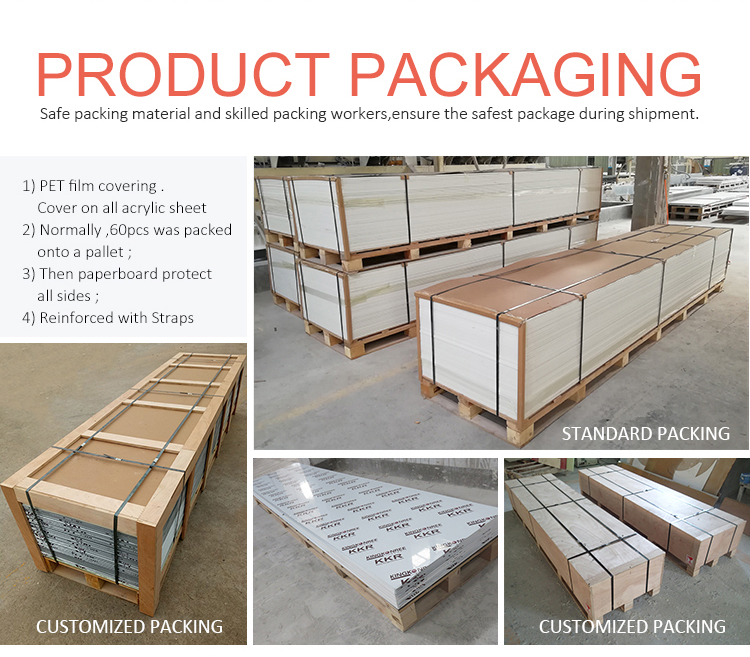 KKR Hotel Project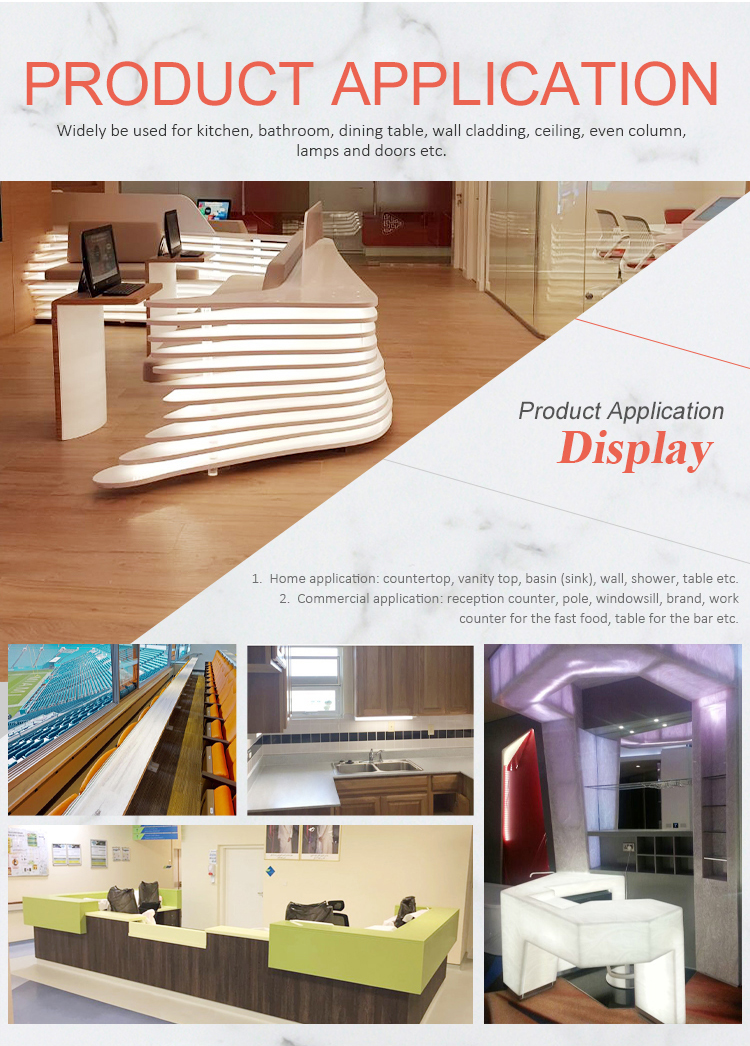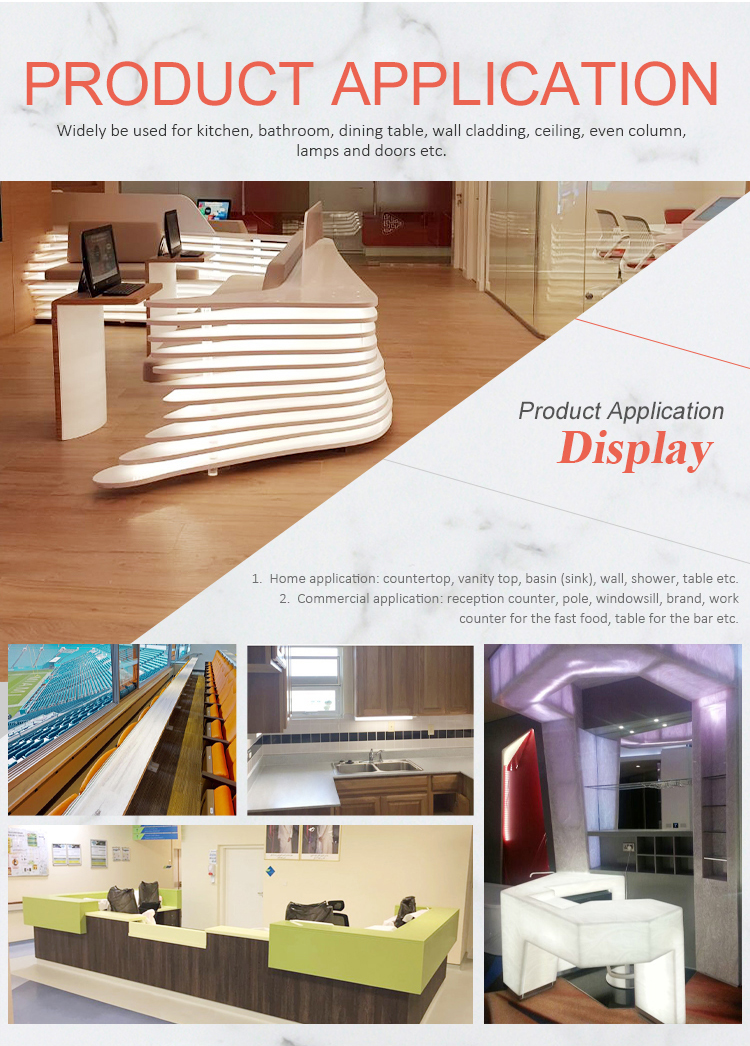 KKR Company


Related Products Recommended by seller30mm Thickness Acrylic Solid Surface Sheet Resin Stone Panel Big Slabs Solid surface$80.00 - $100.00 / Meter60 MetersKKR Factory Price 12x760x3660mm
Artificial Stone
Modified Acrylic Solid Surface Slab for Thailand Vanity Top$70.00 - $90.00 / Piece30 PiecesKKR-M069 Carrara
Marble
White Grey Black Solid Surface Stone Sheets 20mm Glossy Stone Sheets Counters$100.00 - $200.00 / Sheet30.0 Sheetsacrylic solid surface adhesive,acrylic solid surface glue$10.00 - $60.00 / Piece5 Pieces Contact us if you need more details on Solid Surface Countertop Slabs. We are ready to answer your questions on packaging, logistics, certification or any Other aspects about Marble Solid Surface、Grey Solid Surface. If these products fail to match your need, please contact us and we would like to provide relevant information.
Product Categories : Acrylic Solid Surface