2440x1220x12mm Artificial Stone Korean Marble Pattern Viened Color Acrylic Resin Solid Surface Sheet Slab For Sale
Product Description
#detail_decorate_root .magic-0{vertical-align:top}#detail_decorate_root .magic-1{padding:0;margin:0;color:#333;font-size:14px;padding-left:4px;font-weight:bold;white-space:pre-wrap}#detail_decorate_root .magic-2{font-size:24px}#detail_decorate_root .magic-3{vertical-align:top;display:block;padding-right:4px;box-sizing:border-box;padding-left:4px}#detail_decorate_root .magic-4{vertical-align:top;padding-bottom:4px;box-sizing:border-box;padding-top:4px}#detail_decorate_root .magic-5{padding:0;margin:0;white-space:pre-wrap;font-size:14px}#detail_decorate_root .magic-6{font-size:18px}#detail_decorate_root .magic-7{width:750px}#detail_decorate_root .magic-8{overflow:hidden;width:750px;height:407.40740740740745px;margin-top:0;margin-bottom:0;margin-left:0;margin-right:0}#detail_decorate_root .magic-9{margin-top:0;margin-left:0;width:750.0000000000001px;height:407.40740740740745px}#detail_decorate_root .magic-10{border-bottom-style:solid;border-bottom-color:#53647a;font-family:Roboto;font-size:24px;color:#53647a;font-style:normal;border-bottom-width:2px;padding-top:8px;padding-bottom:4px}#detail_decorate_root .magic-11{width:750px;border-collapse:collapse}#detail_decorate_root .magic-12{min-height:18px;padding:5px 10px;width:102px;min-height:18px;box-sizing:content-box}#detail_decorate_root .magic-13{min-height:18px;padding:5px 10px;width:604px;min-height:18px;box-sizing:content-box}#detail_decorate_root .magic-14{overflow:hidden;width:750px;height:480.46874999999994px;margin-top:0;margin-bottom:0;margin-left:0;margin-right:0}#detail_decorate_root .magic-15{margin-top:0;margin-left:0;width:750px;height:480.46874999999994px}#detail_decorate_root .magic-16{overflow:hidden;width:750px;height:439.5px;margin-top:0;margin-bottom:0;margin-left:0;margin-right:0}#detail_decorate_root .magic-17{margin-top:0;margin-left:0;width:750px;height:439.5px}#detail_decorate_root .magic-18{text-align:center}#detail_decorate_root .magic-19{font-size:32px}#detail_decorate_root .magic-20{overflow:hidden;width:750px;height:750px;margin-top:0;margin-bottom:0;margin-left:0;margin-right:0}#detail_decorate_root .magic-21{margin-top:0;margin-left:0;width:750px;height:750px}#detail_decorate_root .magic-22{overflow:hidden;width:750px;height:500.25px;margin-top:0;margin-bottom:0;margin-left:0;margin-right:0}#detail_decorate_root .magic-23{margin-top:0;margin-left:0;width:750px;height:500.25px}#detail_decorate_root .magic-24{overflow:hidden;width:750px;height:1210px;margin-top:0;margin-bottom:0;margin-left:0;margin-right:0}#detail_decorate_root .magic-25{margin-top:0;margin-left:0;width:750px;height:1210px}#detail_decorate_root .magic-26{overflow:hidden;width:750px;height:1236px;margin-top:0;margin-bottom:0;margin-left:0;margin-right:0}#detail_decorate_root .magic-27{margin-top:0;margin-left:0;width:750px;height:1236px}#detail_decorate_root .magic-28{overflow:hidden;width:750px;height:894px;margin-top:0;margin-bottom:0;margin-left:0;margin-right:0}#detail_decorate_root .magic-29{margin-top:0;margin-left:0;width:750px;height:894px}#detail_decorate_root .magic-30{overflow:hidden;width:750px;height:531px;margin-top:0;margin-bottom:0;margin-left:0;margin-right:0}#detail_decorate_root .magic-31{margin-top:0;margin-left:0;width:750px;height:531px}#detail_decorate_root .magic-32{overflow:hidden;width:750px;height:1386px;margin-top:0;margin-bottom:0;margin-left:0;margin-right:0}#detail_decorate_root .magic-33{margin-top:0;margin-left:0;width:750px;height:1386px}#detail_decorate_root .magic-34{overflow:hidden;width:750px;height:519px;margin-top:0;margin-bottom:4px;margin-left:0;margin-right:0}#detail_decorate_root .magic-35{margin-top:0;margin-left:0;width:750px;height:519px}#detail_decorate_root .magic-36{overflow:hidden;width:373px;height:238.22266666666667px;margin-top:0;margin-bottom:0;margin-left:0;margin-right:0}#detail_decorate_root .magic-37{margin-top:0;margin-left:0;width:373px;height:238.22266666666667px}#detail_decorate_root .magic-38{overflow:hidden;width:373px;height:238px;margin-top:0;margin-bottom:0;margin-left:4px;margin-right:0}#detail_decorate_root .magic-39{margin-top:0;margin-left:0;width:420px;height:238px}#detail_decorate_root .magic-40{min-height:18px;padding:5px 10px;width:12px;min-height:18px;box-sizing:content-box}#detail_decorate_root .magic-41{min-height:18px;padding:5px 10px;width:692px;min-height:18px;box-sizing:content-box}#detail_decorate_root .magic-42{min-height:18px;padding:5px 10px;width:12px;box-sizing:content-box}#detail_decorate_root .magic-43{font-size:14px}#detail_decorate_root .magic-44{min-height:18px;padding:5px 10px;width:692px;box-sizing:content-box} MODIFIED TEXTURE PATTERN
Acrylic Solid Surface
SHEETS
    As one of the biggest manufacturer of Acrylic
solid surface
Sheets in China, we are producing various kinds of acrylic solid surface products.Specialized in the acrylic solid surface industry for about 20 years, there are mainly four types of solid surface sheets with more than 300 kinds of colors and patterns that we Kingkonree are now producing: 100% pure acrylic solid surface sheets, modified acrylic solid surface sheets, texture pattern solid surface sheets, and
Translucent Solid Surface
sheets.Please contact us for more product information and solid surface sheet color.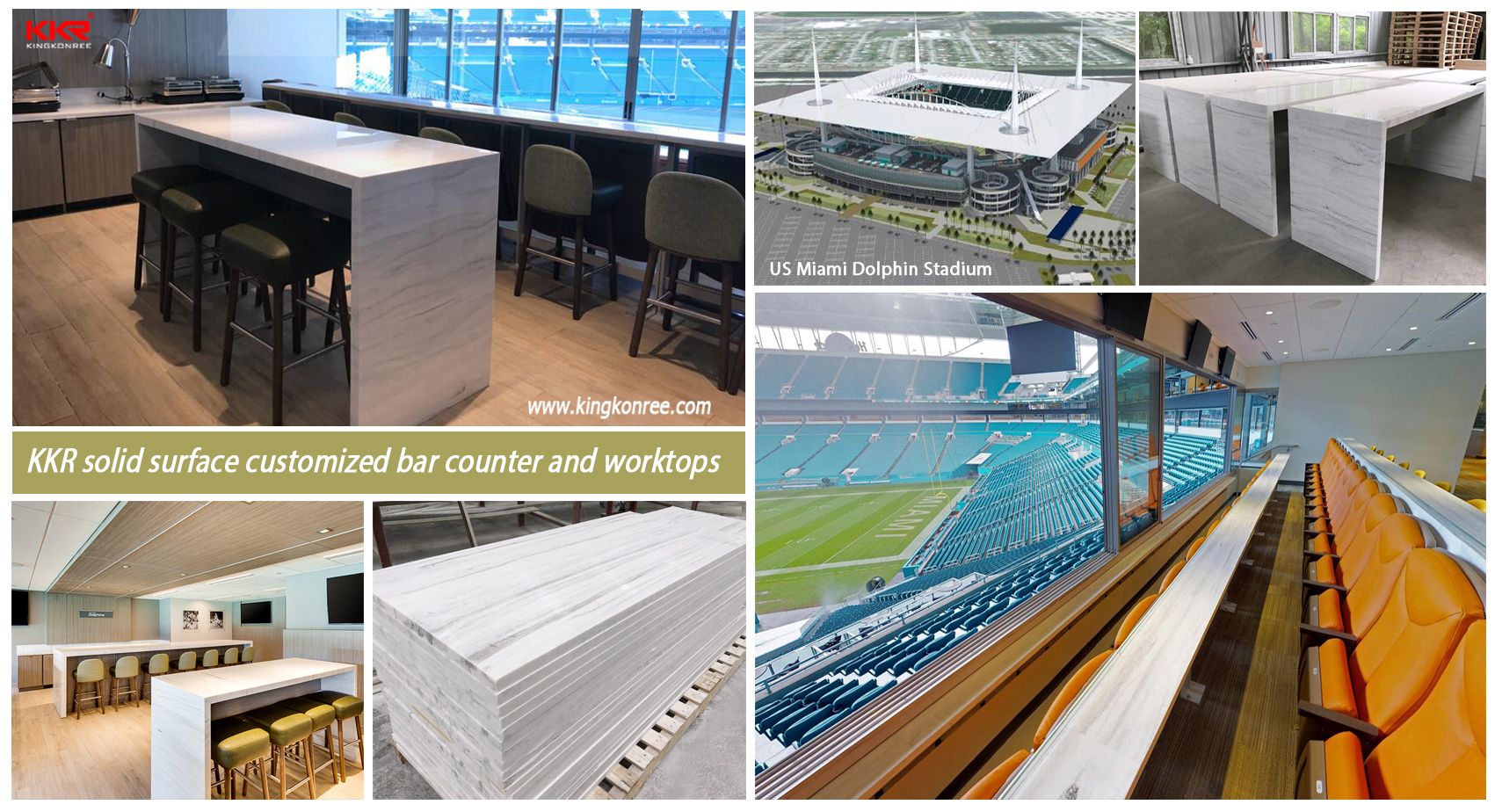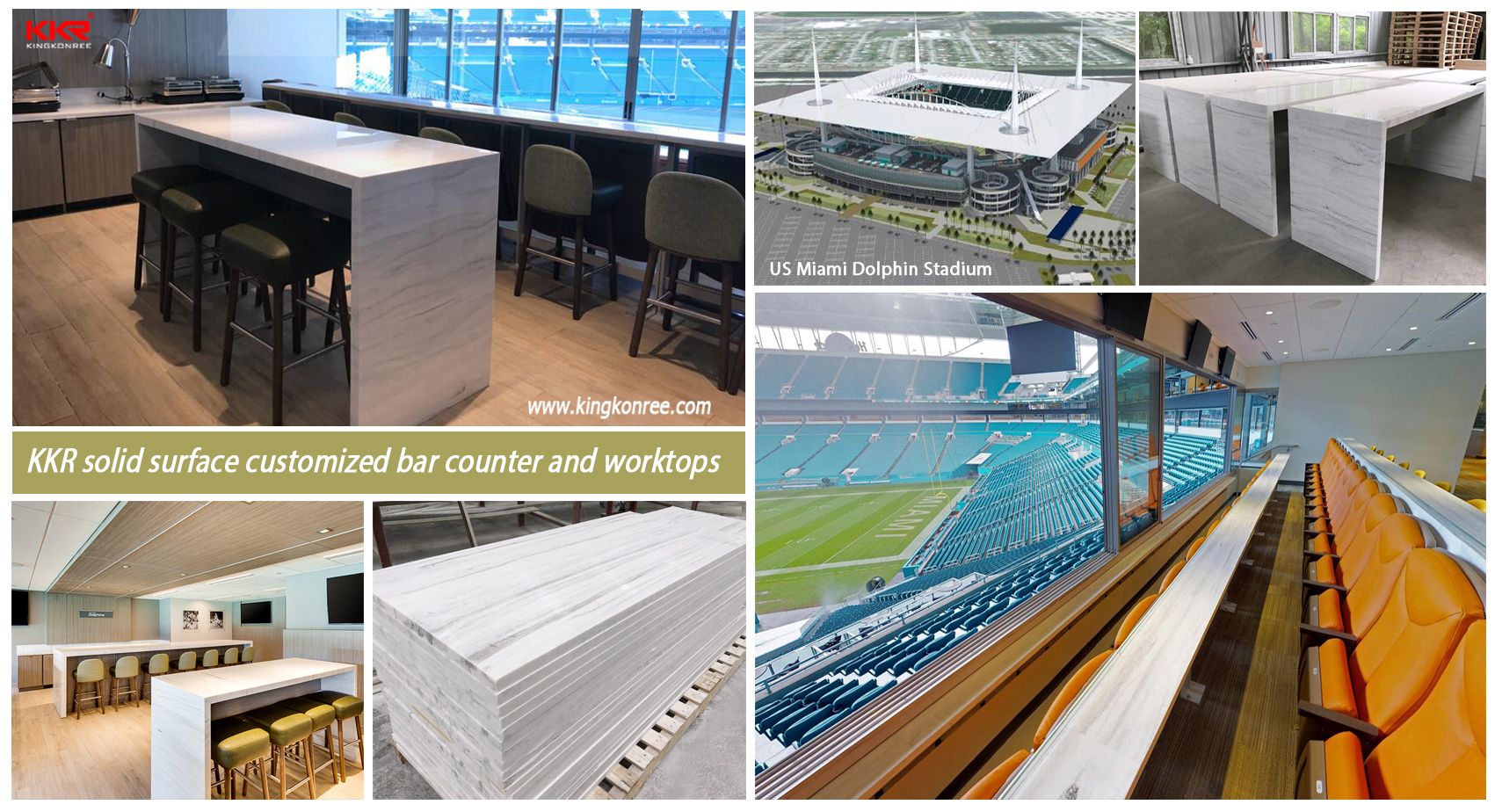 Products Description <
Table
class="hight-light-first-column all magic-11">
Name
Solid surface sheets
Materials
PMMA,UPA, Aluminum hydroxide Power, curing agent, accelerant, pigment
Length
2440 mm, 3050 mm, 3660 mm (Max: 3660 mm)
Width
760 mm,900 mm,1220 mm (Max: 1220 mm)
Thickness
6~30 mm (min.6mm, max.30mm)
Colors
More than 300 colors for choose, also could customize color according to your samples.
Application
Samples
Free sample of size 50*50*12mm, 100*100*12mmcould be provided
Warranty
10 years
Capacity
6000 pieces per month
MOQ
30pcs/color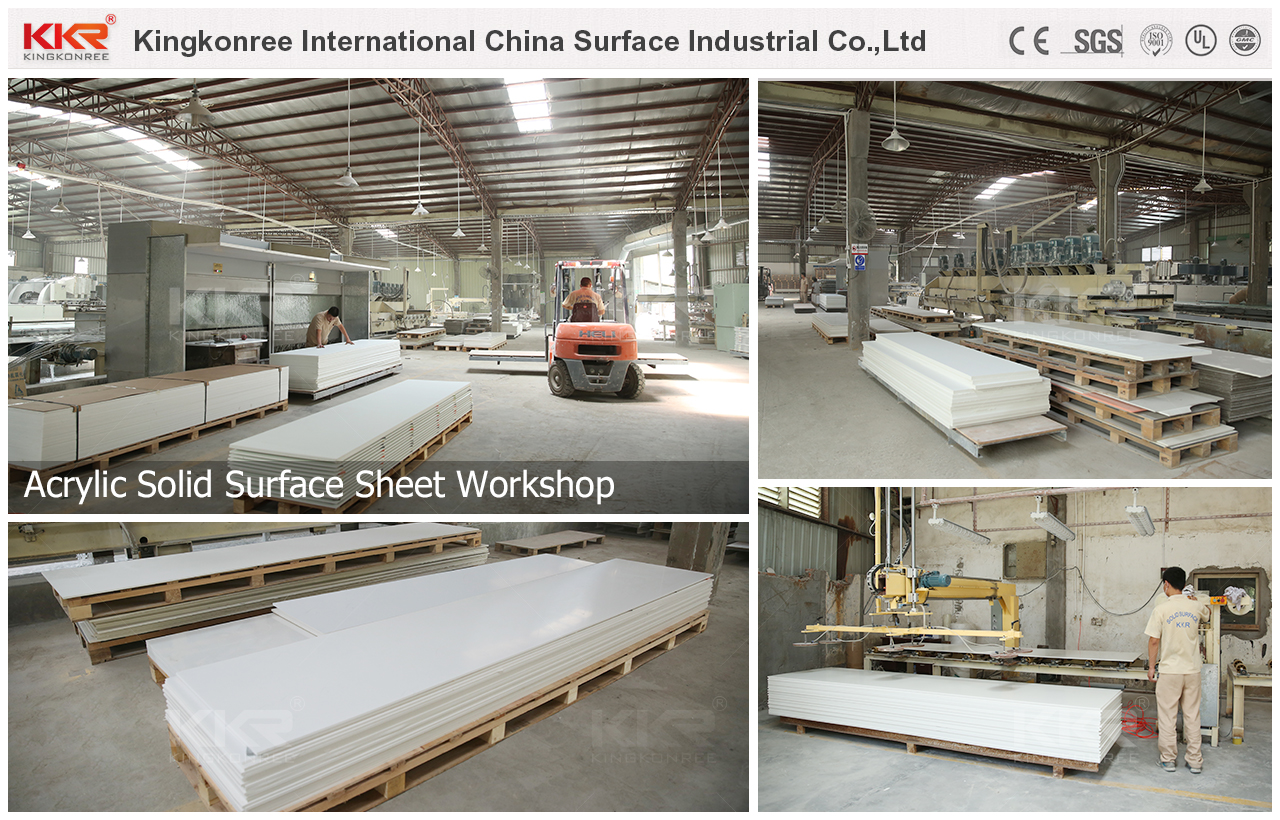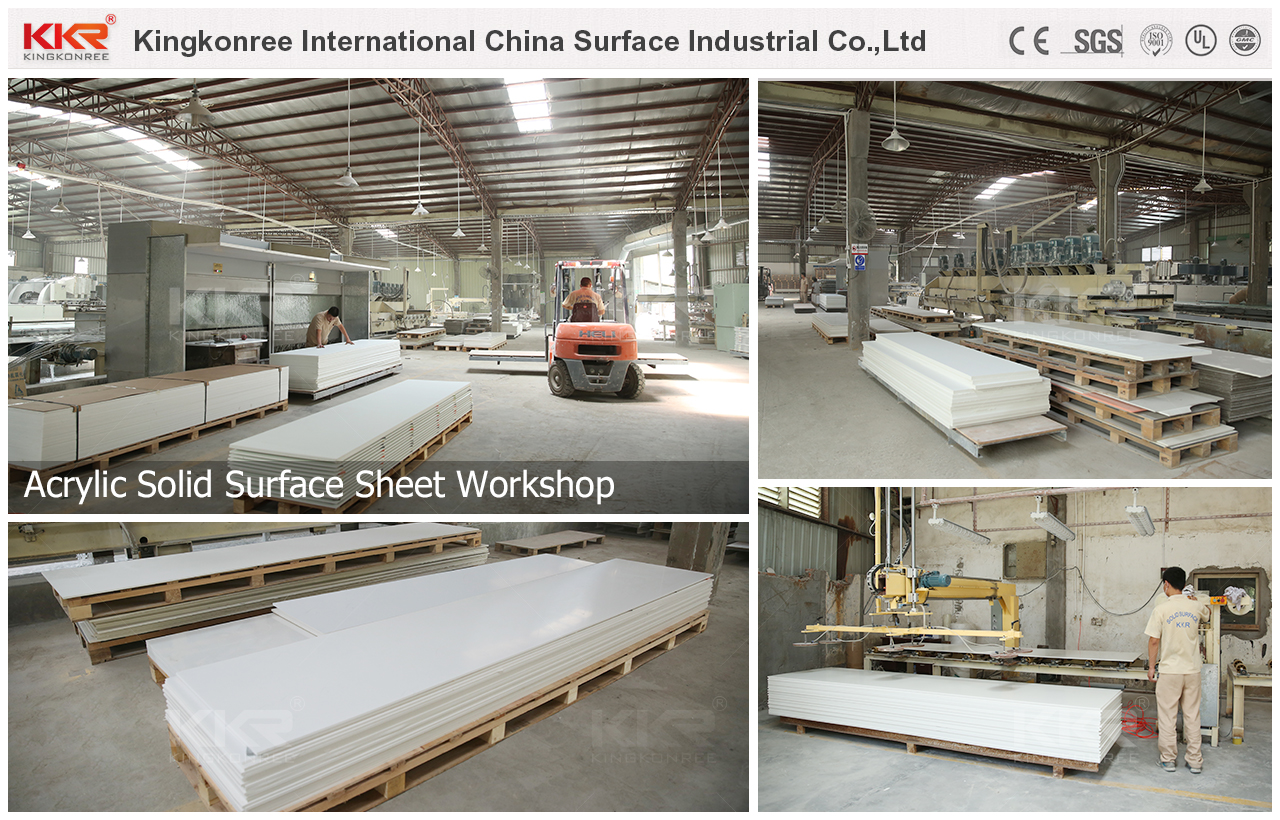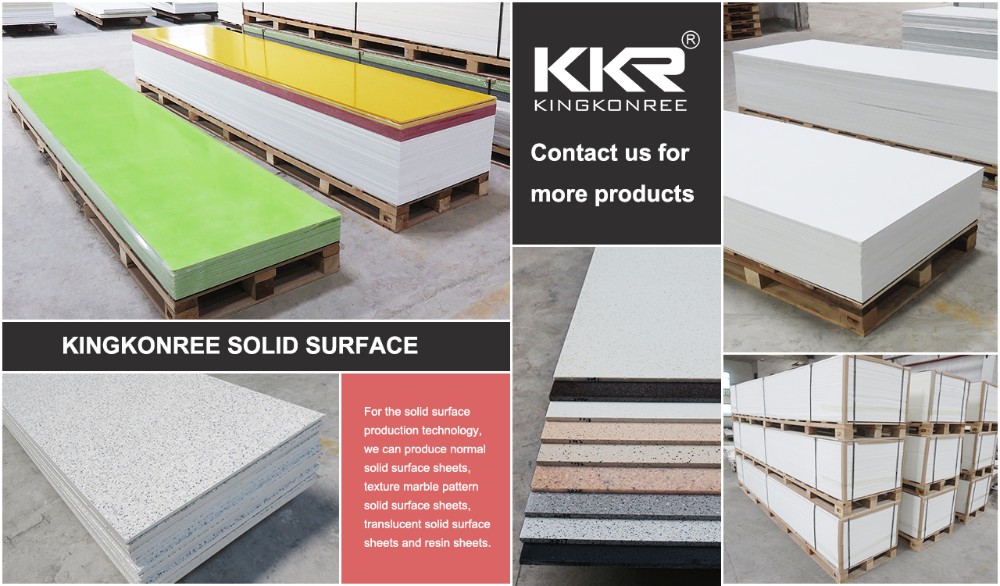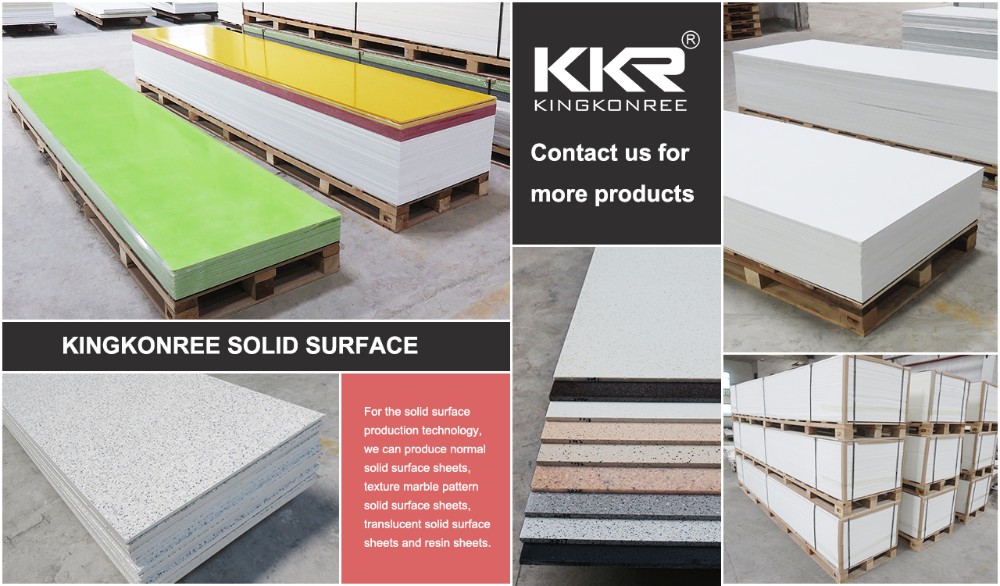 Click to see more offers!!!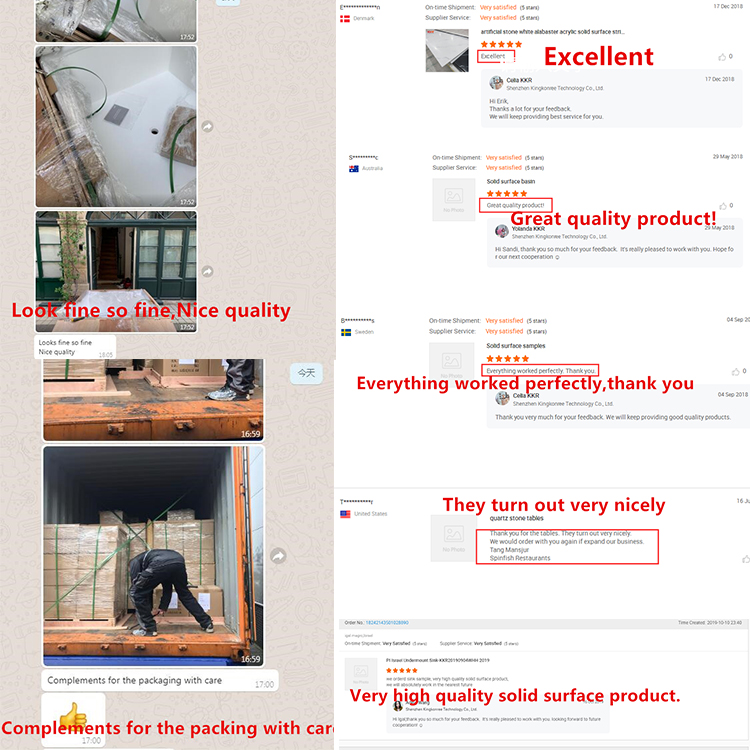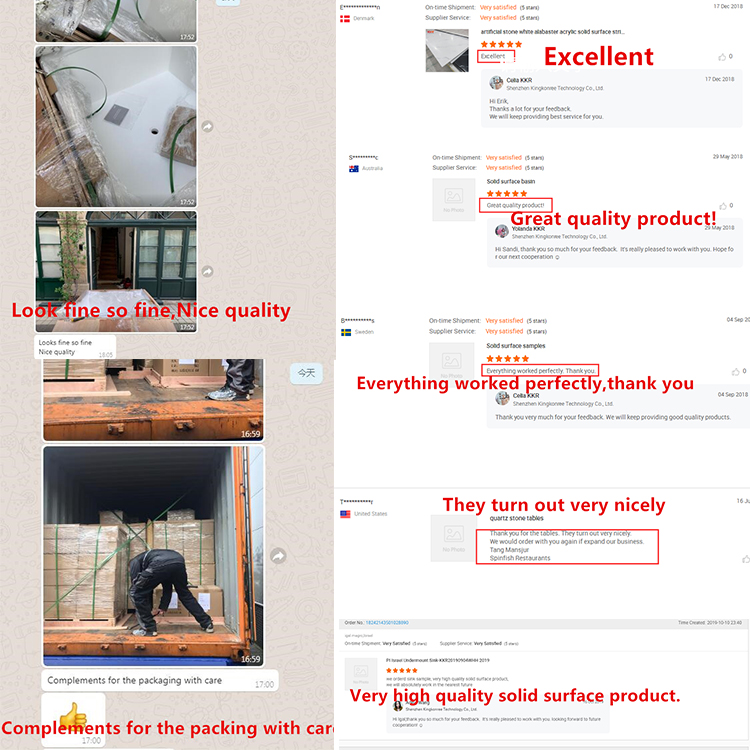 Solid surface features:*Joint invisible, more beautiful appearance
* No bubbles, anti-pollution, clear more convenient
*High tenacity & easily repairable;
*Smooth, solid, inconspicuous seams;
*Superior stain/bacteria/chemical resistance
*Very low water absorption & excellent penetrability;
*Very high oxygen index & flame resistant;
*Warm touch, colorful and beautiful.
* Extremely durable and easy to maintain and repair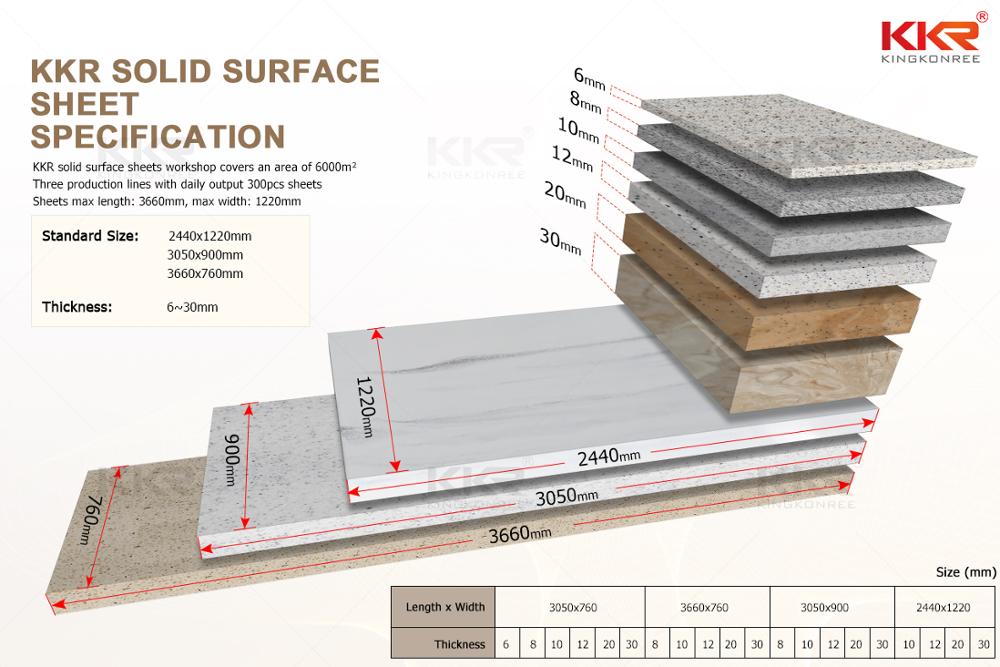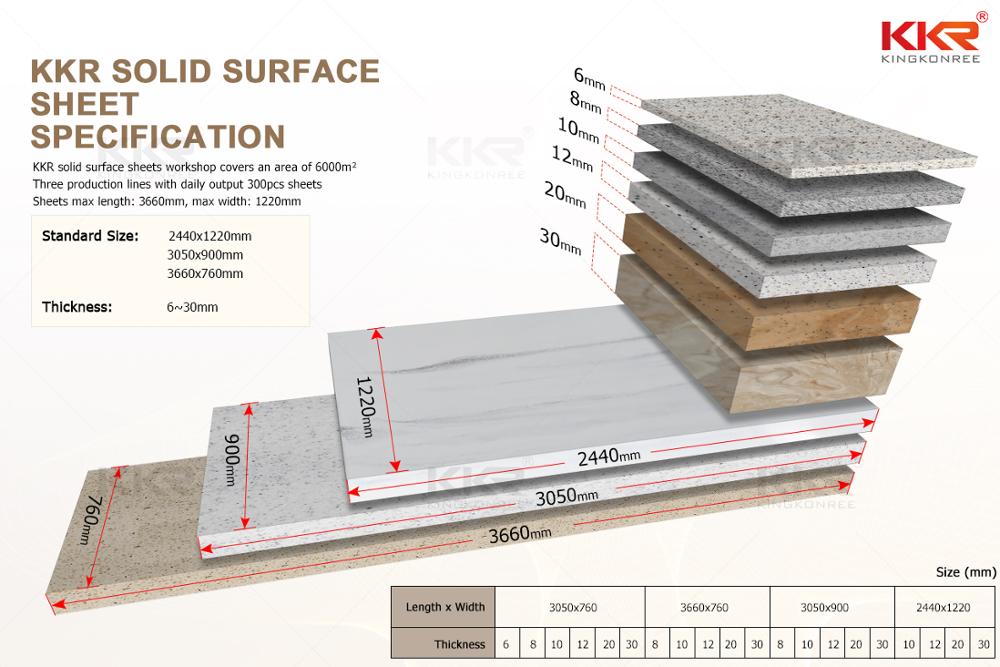 KKR currently has more than 300 different color solid surface panels and also accepts color matching to meet your different needs                                                                                                           Please contact us for the latest product catalog.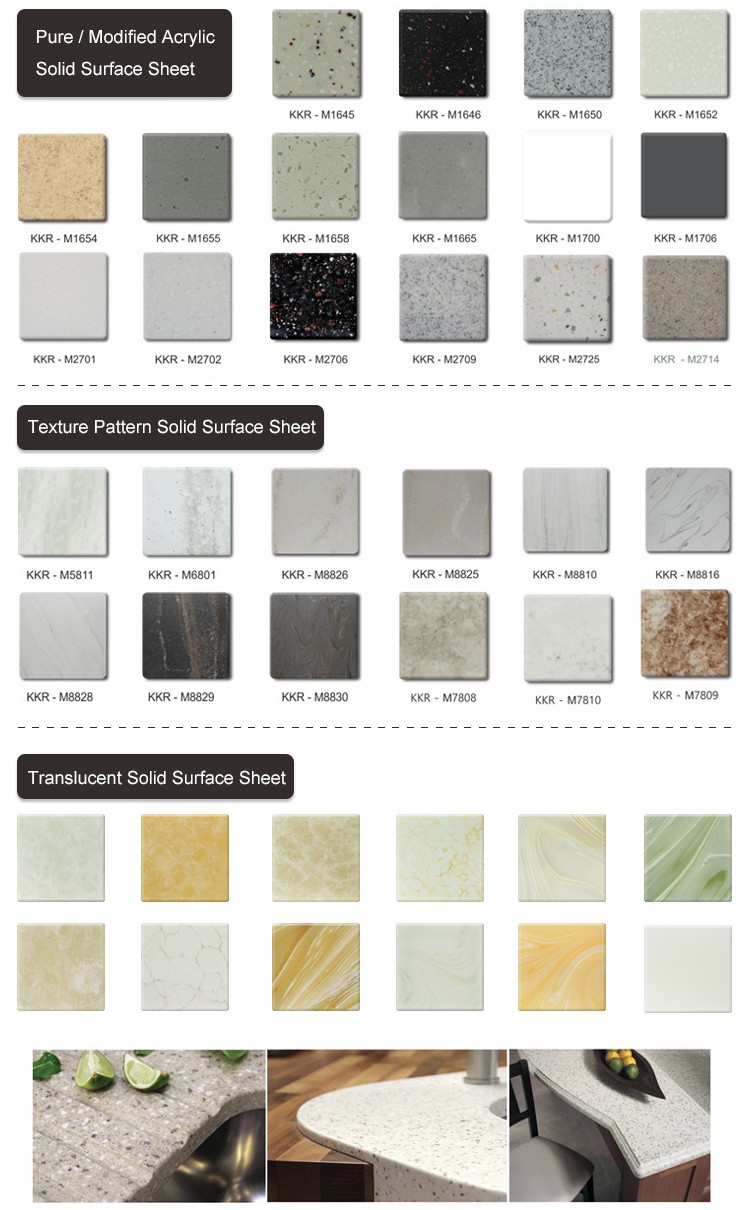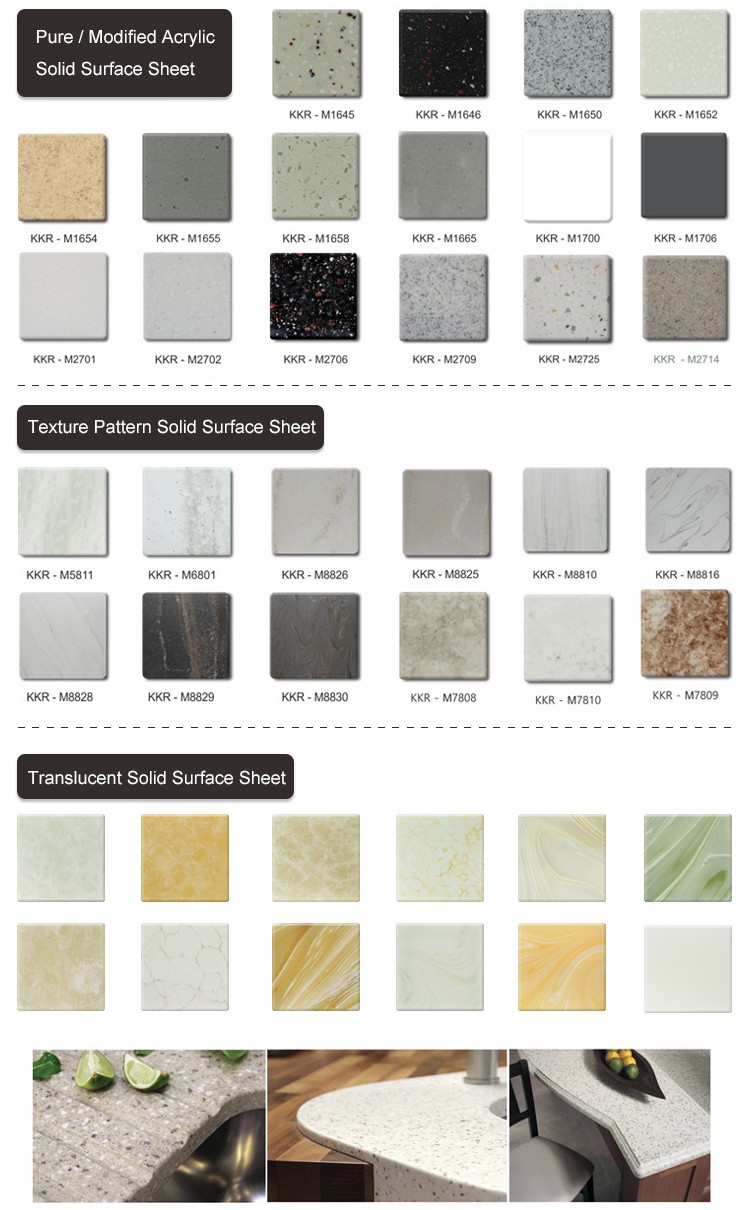 Product Advantages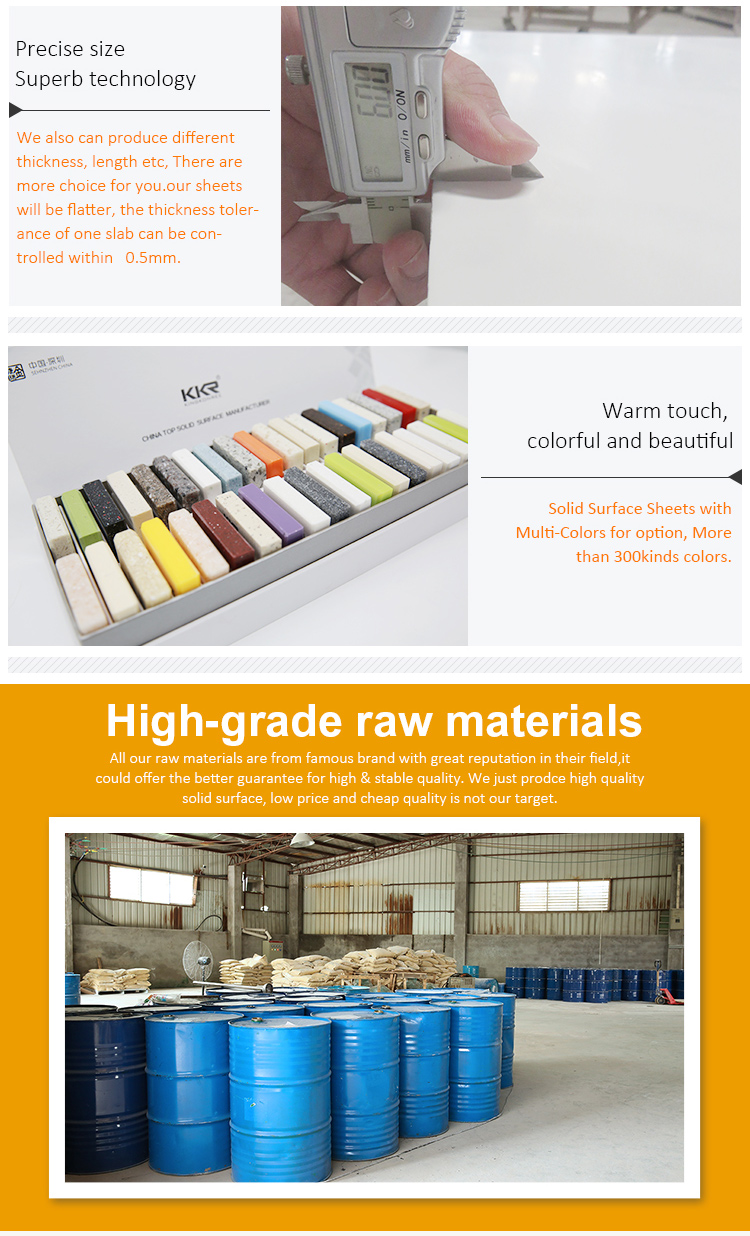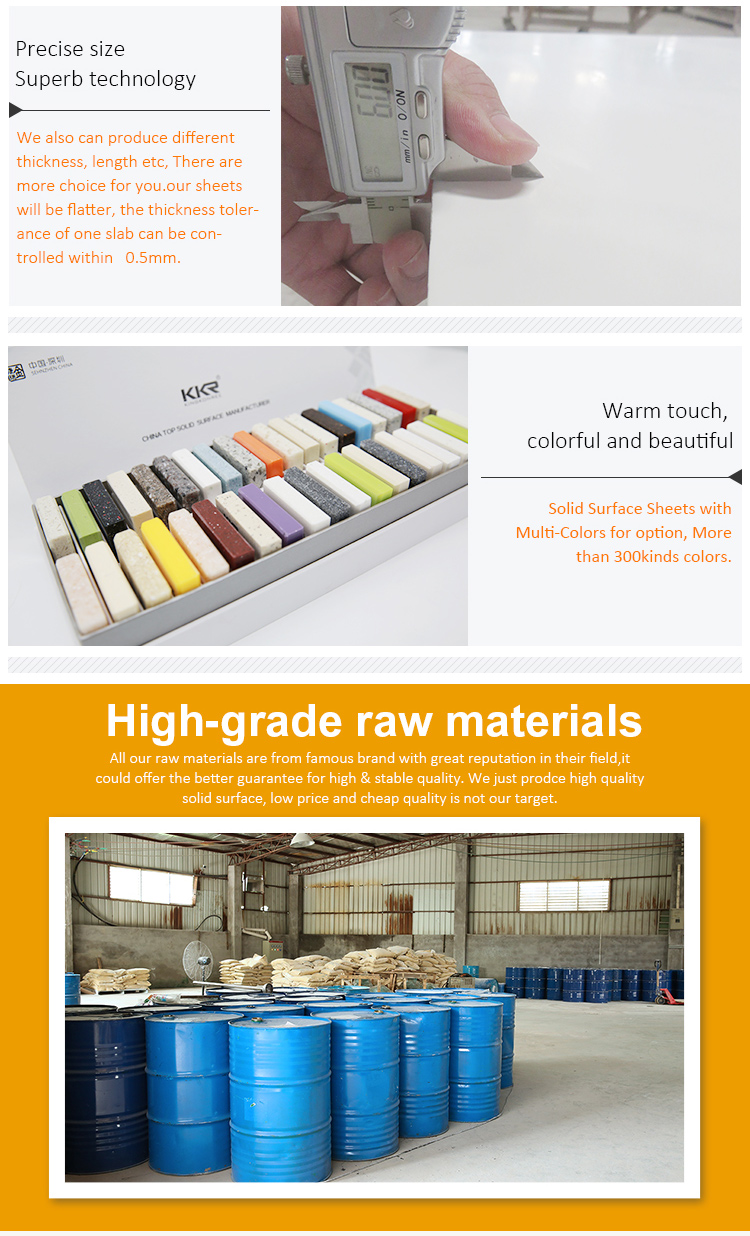 Application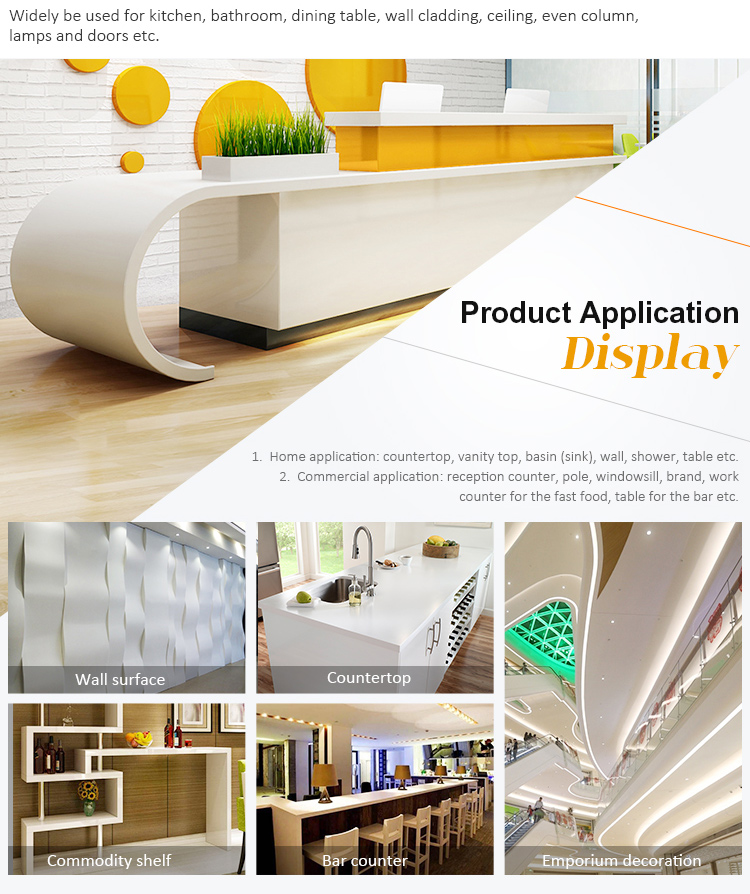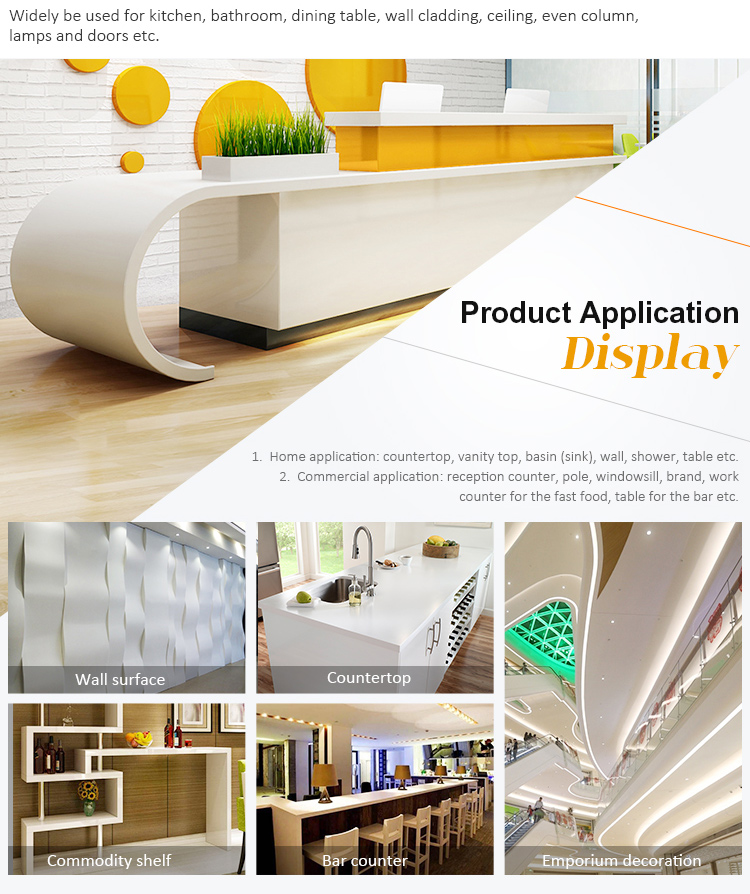 Packing&Delivery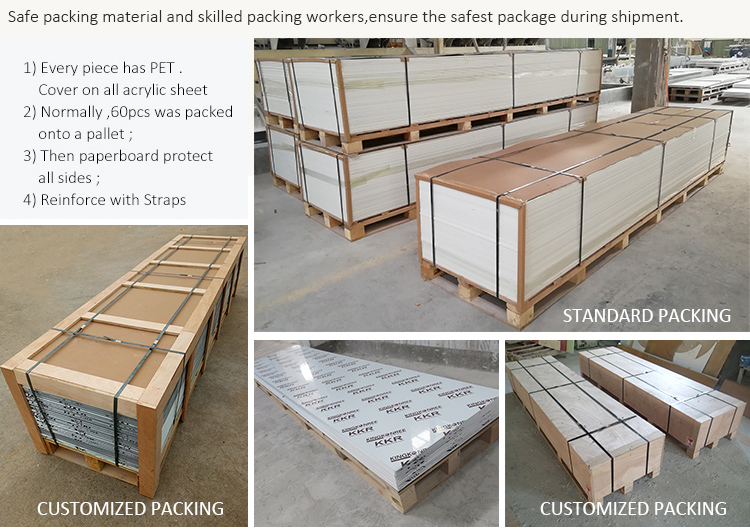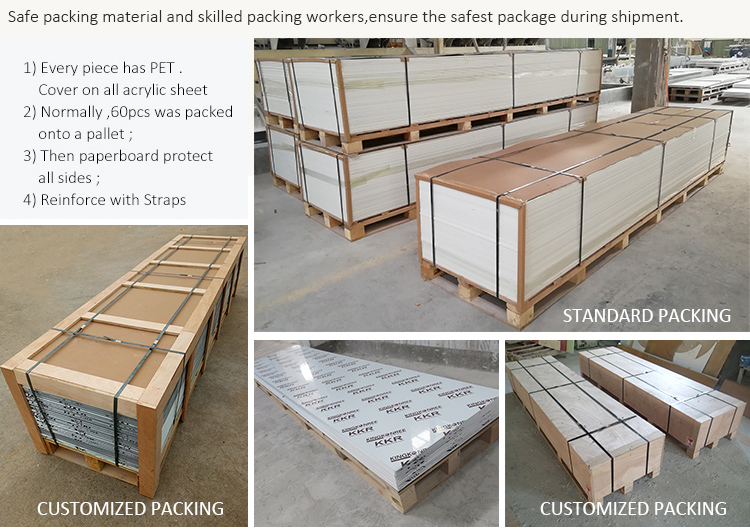 KKR Company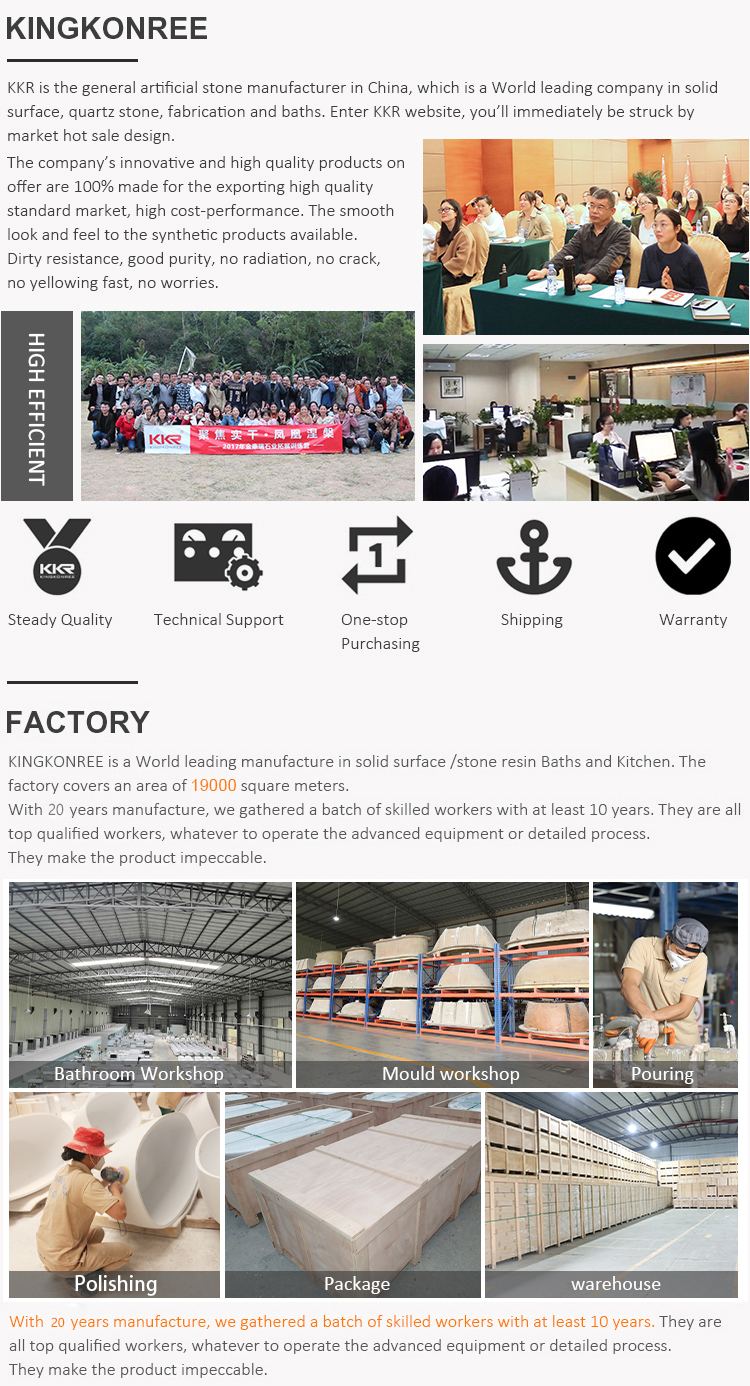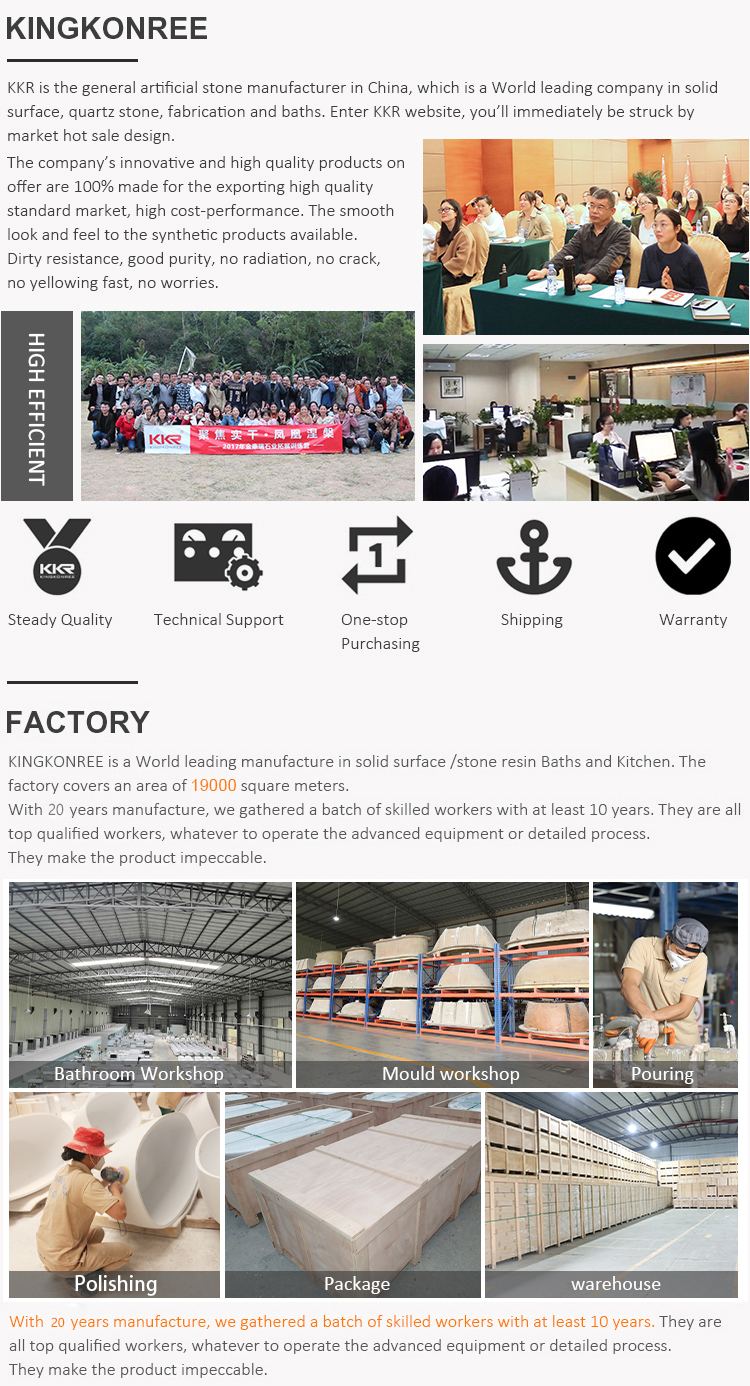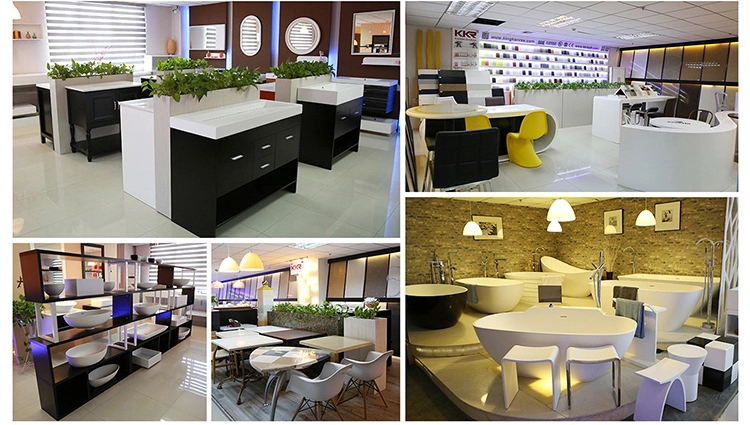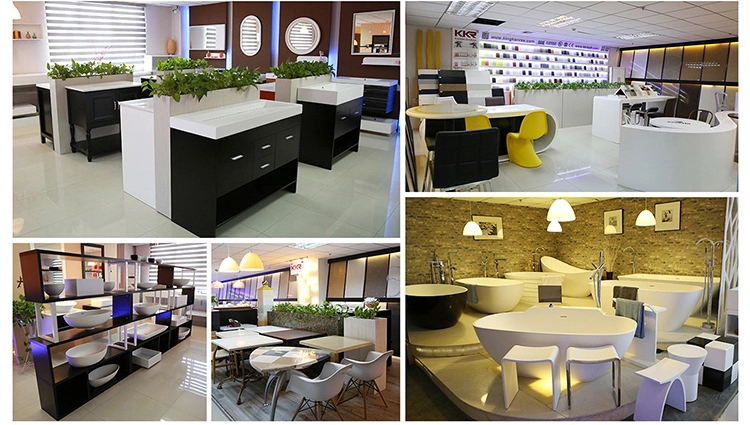 Our Services
1

We own a one of the biggest sales team in the same industry.Offering one-to-one VIP considerate service.

2

Rich exporting experience,already exporting to 107 countries till to now. Offering professional shipping,

loading,customs clearance and settlement service.


3

Abundant product pictures and small samples for your reference.

4

We attend many exhibition every year,such as Canton Fair, Xiamen International Stone Fair, KIBS, BIG5.

5

Advanced equipment and technology.Offering superior OEM products for your one-stop purchasing.

6

Various colors of free sample for quality checking,test and comparison.

7

Offering professional technical advice,comprehensive technical support and timely after-sales services.
If you want to know more information, please contact us. Contact us if you need more details on Solid Surface. We are ready to answer your questions on packaging, logistics, certification or any
Other
aspects about Acrylic Resin Solid Surface、Solid Surface Slab. If these products fail to match your need, please contact us and we would like to provide relevant information.
Product Categories : Acrylic Solid Surface